Motorola wants to attract more people and it is for this reason that the American firm decided to launch four Motorola Moto G7 instead of two.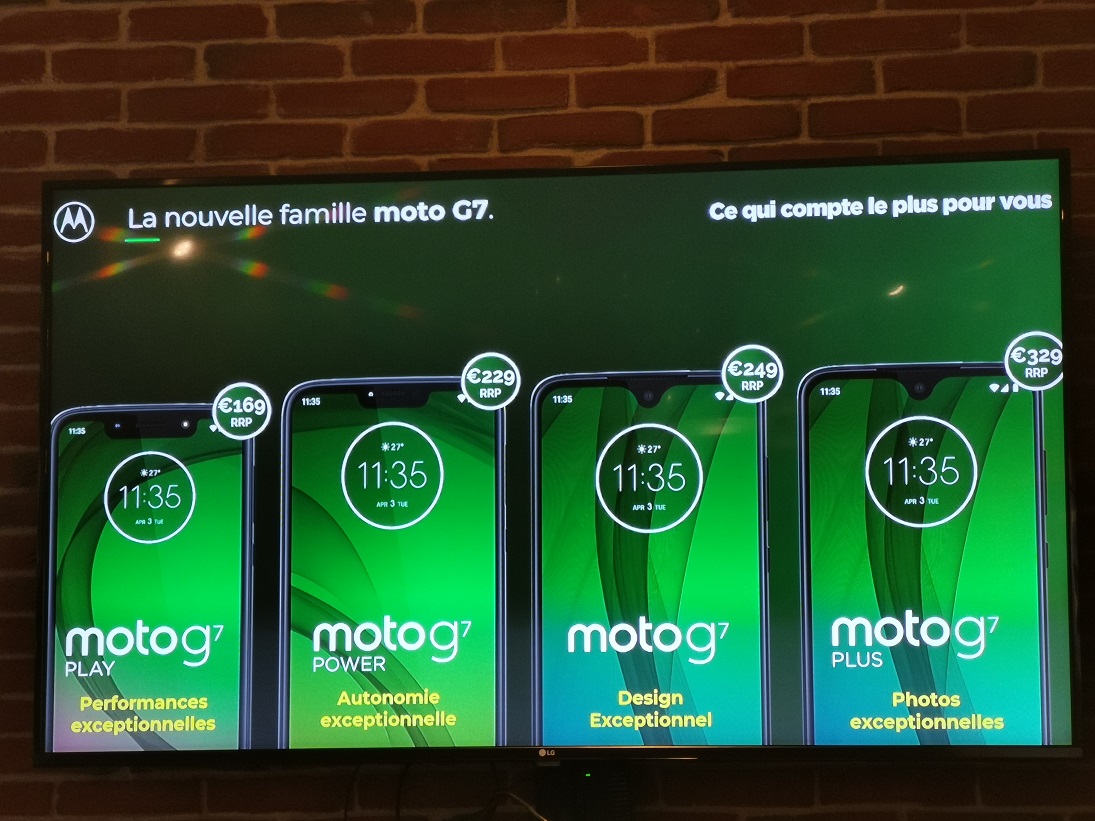 The Moto G range is already 6 years old and in 6 years, Motorola has sold 100 million copies. If last year, the firm has marketed two Motorola Moto G6 in France, adds two more in 2019 to attract more consumers. On the menu, a Motorola Moto G7, a Moto G7 Plus, a Moto G7 Power and a Moto G7 Play.
Motorola Moto G7: more attractive, more powerful, a success.
The Motorola Moto G7 has a 6.2-inch Max Vision Full HD + screen that is topped by a notch in the shape of water droplets. Inside, there is a Qualcomm Snapdragon 632 processor that is associated with 4 GB of RAM and 64 GB of internal memory. In the side photo, Moto G7 is equipped with a double backup sensor of 12 + 5 million pixels. The ludic characteristics are at your disposal. We think, in particular, in cinemagraphe mode to freeze elements in a gif. When running on Android Pie like other members of the line, the Motorola Moto G7 offers an almost pure experience in the Google operating system. The power supply is managed by a 3000 mAh battery. The TurboPower fast charging technology is here.
You can pre-order it now and exclusively on Amazon for 249.99 euros. Deliveries will begin on February 15 as for other models.
Motorola Moto G7 Plus: a very solid technical sheet.
Here is the flagship of the new generation of Moto G, the Motorola Moto G7 Plus. This smartphone is fully photographed with a double dorsal camera of 16 + 5 megapixels together with an optical image stabilizer. It also uses an artificial intelligence that we can not wait to discover in more detail. With high-resolution zoom mode or smart dialing, Motorola is confident that consumers will immediately become professional photographers. The 6.2-inch Max Vision screen features Full HD + and there are two Dolby Audio stereo speakers. A Qualcomm Snapdragon 636 chip animates the Motorola Moto G7 Plus. We remember the presence in the box of a TurboPower 27W charger that would allow this phone to offer 12 hours of battery life for 15 minutes. The Moto G7 Plus will cost € 329.99.
Motorola Moto G7 Power: a future that promises to be spectacular
The Motorola Moto G7 Power could be one of the most durable smartphones of the year. This phone incorporates a powerful 5000 mAh battery that would provide 60 hours of autonomy in versatile mode. The Moto G7 Power configuration consists of a Qualcomm Snapdragon 632 processor, 4 GB of RAM and 64 GB of internal memory. It also has a 6.2-inch maximum viewing panel that offers HD +. For this mobile, it will cost 229.99 euros.
Motorola Moto G7 Play: the E series may feel threatened
In addition to its G-series, Motorola has become accustomed to launching Moto E every year, which focuses on the entry-level market with prices below 200 euros. In 2019, the brand offers the Motorola Moto G7 Play at 169.99 euros. This low-cost smartphone features a Qualcomm Snapdragon 632 processor combined with 2GB of RAM and 32GB of internal storage. Your battery can also be charged quickly with the 15W TurboPower charger found on all models except the G7 Plus. This cheap phone is also based on its compactness with its 5.7-inch screen in 19: 9 format. On the back of the Motorola Moto G7 Play, there is a unique sensor of 13 million pixels.
conclusion
Like last year, Motorola offers attractive smartphones at a very competitive price. Despite Chinese competition, the company must survive in the entry field and mid-range, since these phones are for all types of users.