A developer had fun wearing
Windows 10
on the
Nintendo Switch console
. The device seems to work, but still displays an error.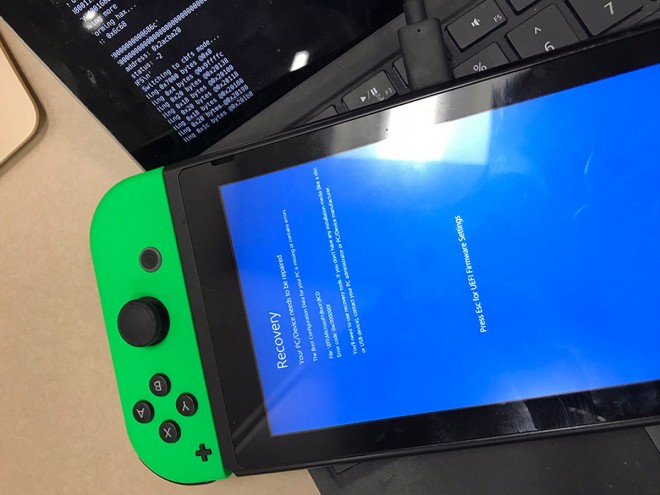 Not long ago, two developers tried to bring Android Q on the Nintendo Switch. The project seemed crazy, but we must say that they succeeded. The Android Switch worked, although some functions were inaccessible and the device was a bit slow. Until today, the project is still in progress and we should have a more successful result in the weeks or months to come. In the meantime, let's take a look at another developer's project, this time bringing Windows 10 to Nintendo's famous hybrid console.
A Nintendo Switch on Windows, yes it can work!
For those who do not know it yet, the Nintendo Switch includes under its hood a Tegra X platform. It allows to run Android, which means that the experience of the developers mentioned above is not really crazy. And since an Android terminal can also run on Windows 10 Arm, this OS can logically run the Nintendo game console. A logic that is easy for developers to understand and some have quickly applied to the task.
A developer has tried to install Windows 10 Arm on his console. The result is quite amazing since the device seems to work, at least almost. The installation went smoothly and the console starts properly. Only problem, it does not go to the end! During startup, the Switch displays an error and is in Recovery mode. But the developer does not throw in the towel, he is still looking for a solution to get around the block.
What do you think of this project? Can it work? Feel free to share your opinion in the comments.